Lets begin Screen Capture with the Ouya!:
This entry explains quickly how I do screen capture for my Ouya articles so that I could show you certain key features and configurations that I have run across over the short while I have been playing with this unit. screen capture from the Ouya requires no special software beyond the android development kits which are easily downloadable. And in a few commands you'll be capturing your favorate screenshots from your Ouya console in no time!
Acquire the software for screen capture.

Updated 8/23/15 : The original blog talked about downloading the android SDK which was well over 800mb in size in order to just get ADB functionality. Which is incredibly excessive to do a function as simple as capturing screenshots off of your Ouya or any other android game console that had ADB capability for that matter! So instead, I have created this download link which has the following items in it.
adb.exe for windows along with the two .DLL requirements in order for you to contact your Ouya wirelessly throughout your network or via USB cable if you so choose.
the /driver/ folder, This folder is only required if you hook your Ouya up via USB and the device manager of windows detects the unknown "Ouya" device on device USB\VID_2836&PID_0010. If you are connecting to your Ouya via network this folder will not be necessary.
Unzip this to your C:\adb\ folder so it's easy to access from command prompt. This file is only 17mb in size. Which is a massive reduction of hard-drive space over the Android SDK download.
Alternate Step 1: Acquire the Android SDK
If you want to do more then just adb action or you wish to check out everything android has in store in terms of development. Then android SDK for windows it is here – A direct link for this is listed right here for the android SDK R21
Once unpacked this will eat almost 1gb of hard-drive space.
Keep track of where you have installed this SDK! I've installed mine into the 'android' folder right onto the root of C:. C:\android\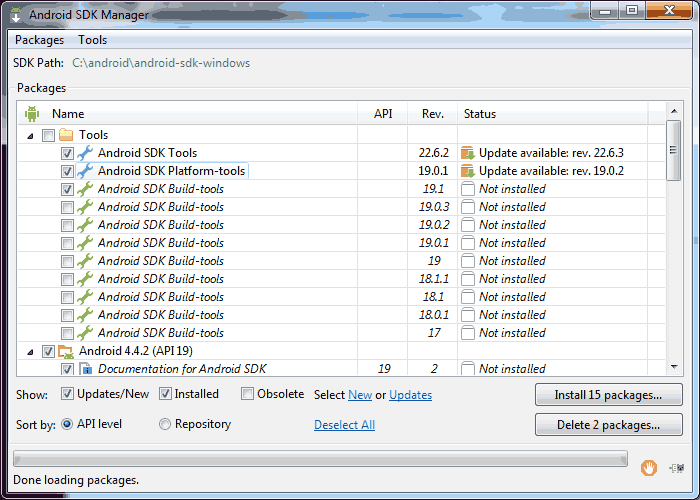 Upon installing the android software you will want to run the SDK Manager and install the platform tools option like what is listed above. This will give you the directory that stores the adb executable in. In this example. C:\android\platform-tools\adb.exe .

Keep in mind you may have to update multiple times in order to get access to the Android SDK Tool section. If you are running the Android SDK.
Run the ADB commands over the network for screen capture..
At first, you're probably thinking that I am going to ask you to setup some complicated windows drivers to get the Ouya working with the help of this YouTube link. Truth is it has gotten a hell of a lot simpler with the network ADB connector which is in the updated versions of the Ouyas OS.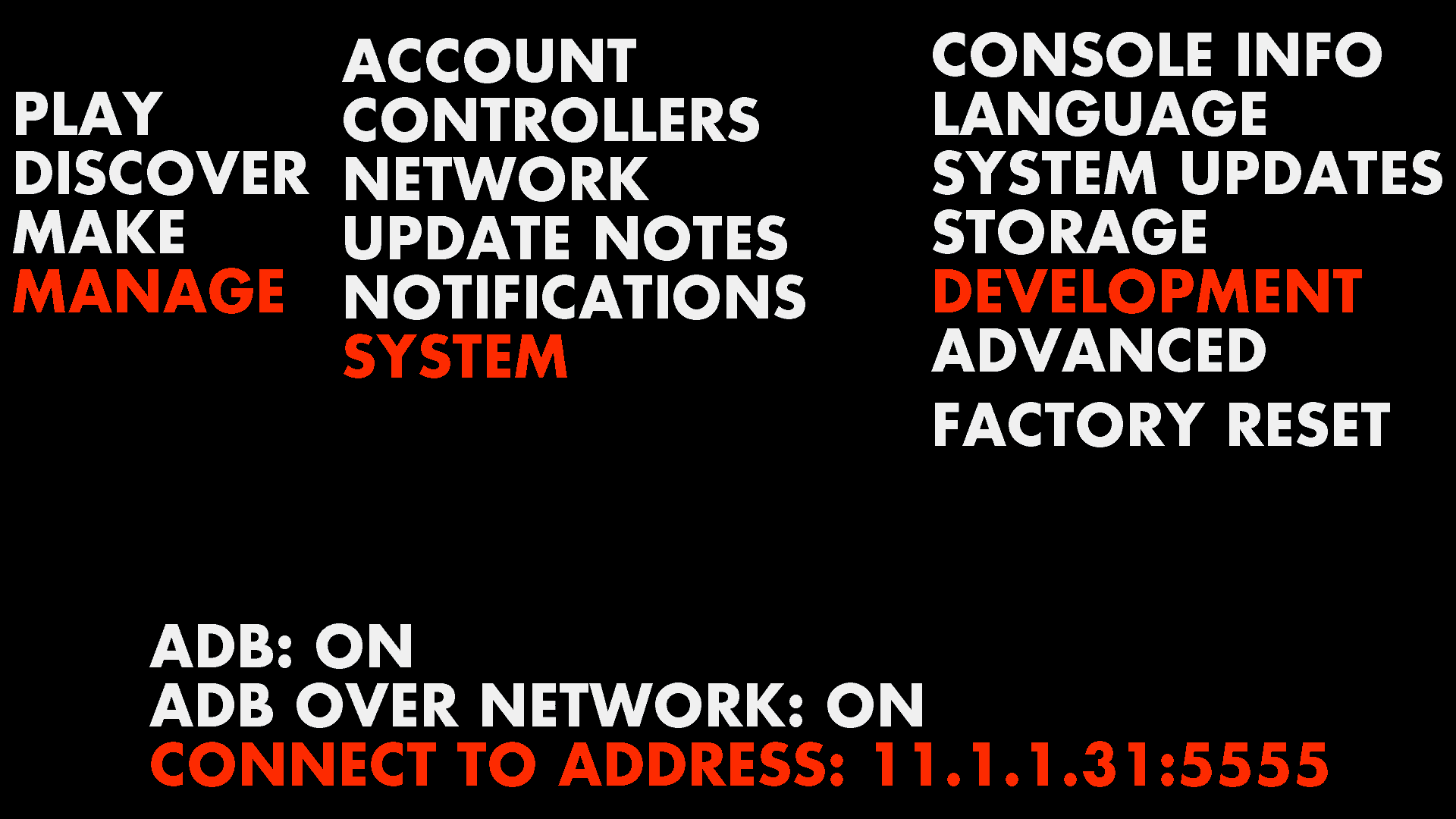 We first have to tell the Ouya to open up the ADB ports so that we can connect to it wirelessly. Click Manage – System – Development . Turn ADB: ON and ADB OVER NETWORK: ON It will then show you the IP address of your wireless network. (Note: if you are connected via lan and you also connect via wireless network as well. It may show you the IP address of the wireless network.)

On the test Ouya for both wireless and eithernet connectivity. By going into Manager – Network from your main Ouya menu. You can see your real IP address.
Now that we installed our SDK and our Ouya is setup correctly. now we open a command line in windows and launch adb to begin screen capture.  I should note this is how you do it in windows. For Linux and Mac your mileage may vary!
cd C:\adb\
adb connect 11.1.1.217
It should respond with something like: connected to 11.1.1.217:5555
Next, lets pull some data
adb shell screencap -p /sdcard/screen.png
It will not offer a response if the screen capture command is successful.
Now that the picture is in the ouya memory we want to pull it over to our main pc.
adb pull /sdcard/screen.png
It should respond with something like: 1905 KB/s (1608127 bytes in 0.824s)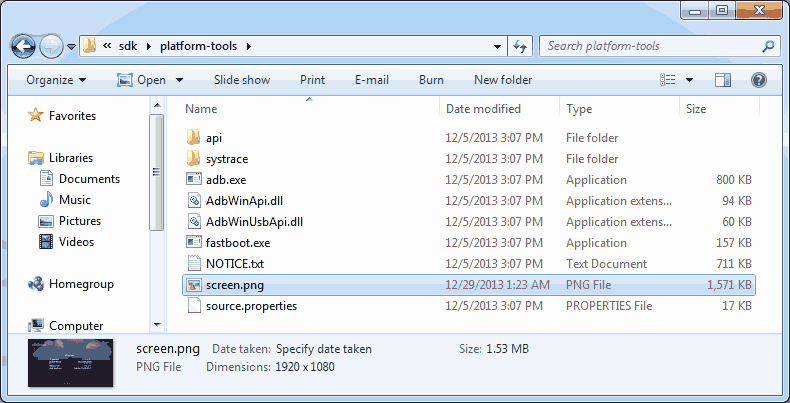 If it works then screen.png will appear in the directory where your adb command line is at. If you are using the ADB download on this blog then it will appear in C:\adb. If the android SDK then it will appear in C:\android\platform-tools\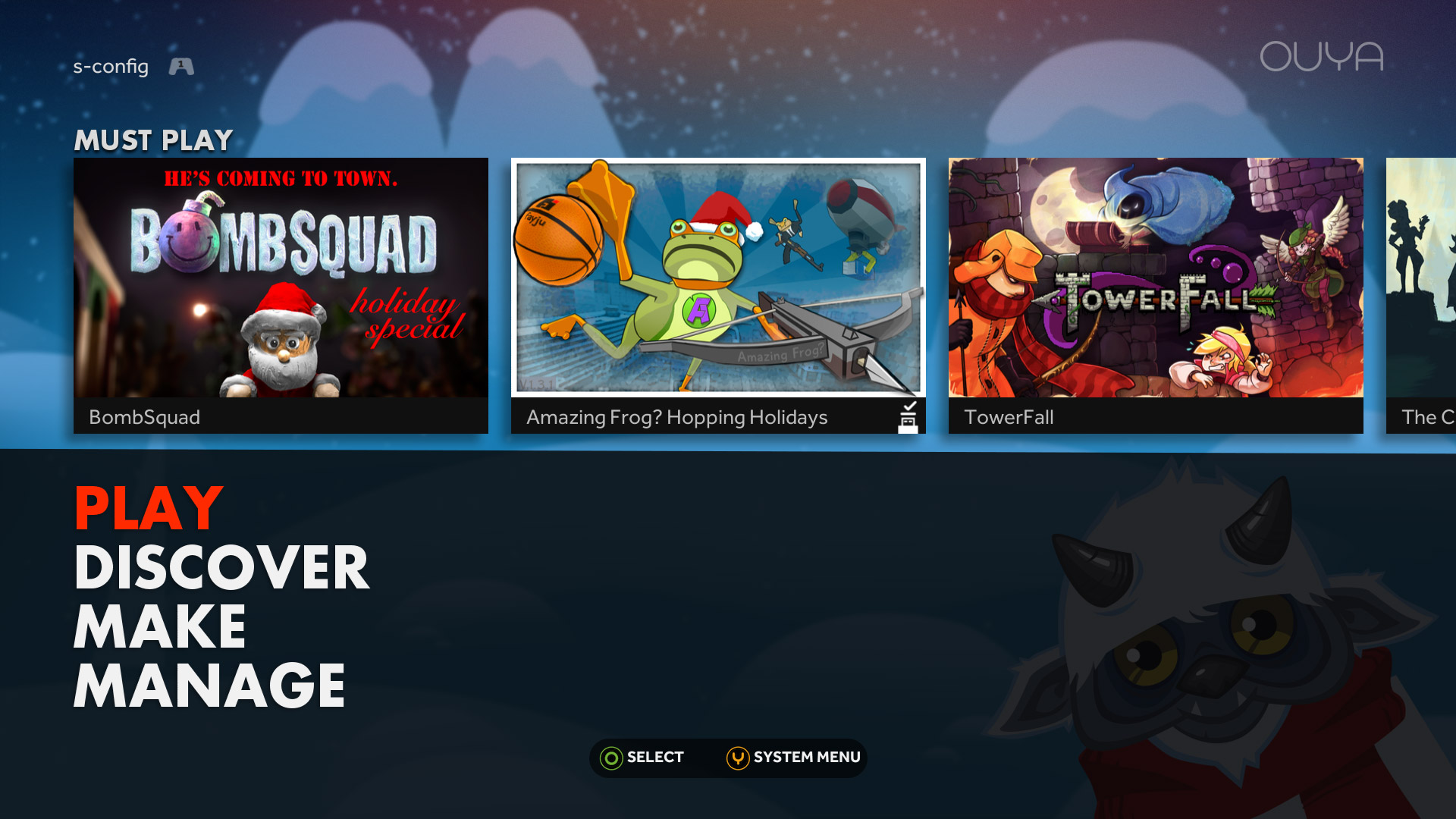 You can now go off and make your own crazy article reviews!
END OF LINE+++