Here's a tutorial on how to get your Xbox 360 wireless receiver working for XP.
This tutorial will teach you how to get the Xbox 360 wireless receiver working inside of windows XP. Unlike the China drivers which make you run a setup file and have a lot of unnecessary bloats. This tutorial will be using the official Microsoft drivers with a slight modification to the INF file. This modification is necessary so that Windows XP can pick up the driver right away. Let's begin.
Introduction:
Now for those who don't know what this little guy does; It allows you to hook up ANY wireless Xbox 360 Controller which operates on a wireless 2.4ghz range to your PC (Up to four devices just like the original Xbox 360) which is useful for playing a lot of Steam games which are coming out which are all about Couch-Action multiplayer action. This wireless receiver is actually a really nice device to have considering Xbox One is released making the hardware of the 360 obsolete. And when hardware becomes obsolete it gets very cheap! I personally paid for 4 Xbox 360 controllers on eBay for around $55 with shipping included. Which isn't bad at all! Read on if you would like to know more about this little $8 unit!
Hardware identification:
This is a brief summary of and differences between the two Xbox 360 receivers that you will find out on the internet.
This is the official Microsoft Xbox 360 Wireless Receiver. Note the Microsoft Logo on the casing and the tab on Cable.

I should note it is next to impossible to find an OEM Microsoft 360 Wireless Receiver unless you are willing to fork out $50-60 for a controller and receiver pack. Used game stores such as GameStop will not keep these around and often will not even have a receiver. GameStop treats oddball hardware devices by only offering a few pennies to buy it off of someone. When you do official receivers show up on eBay. they are typically going anywhere from $15-20 dollars because they are no longer in production thanks to the Xbox One. This can also be verified by checking the hardware ID in the device manager. USB hardware ID for the official receiver is USB\VID_045E&PID_0719 for Windows 7/XP.
This is the Chinese Xbox 360 Wireless Receiver which has no indication it came from Microsoft.

Chinese receivers will come in cheaper packing (if any at all) and will not say the word "Microsoft" anywhere on the unit or package. This allows them to sell this unit in this country without them getting pulled for various intellectual property-related laws (And don't think Microsoft won't go after people for this! They still throw cease and desist letters to people giving out MS-DOS disks for god's sake!) You'll also get a CD and that's about it! No real instructions in the packaging itself. This can be verified by checking the hardware ID in the device manager. USB hardware ID for the official receiver is USB\VID_045E&Pid_0291 for Windows XP/7 or USB\VID_05C6&PID_9244 for Windows 10.
Where to purchase the China Wireless Xbox Receiver.
Ebay – Ignore Malaysian listings as it generally takes three times longer than China and the sellers use dirty tactics to get the lowest price. Generally 8 to 10 dollars USD with shipping from China.
NewEgg – More for North American buyers who don't want to mess with eBay. Prices are 9 to 13 USD plus possible shipping.
DX – A little more expensive than eBay in the 12 to 14 USD range. DX however may be more suitable for international buyers.
Alibaba – This auction site initially was not friendly to US buyers with Paypal. But they are about as good as eBay. I would only suggest this site for people that are looking for bulk purchases of the third-party receiver.
Note: Zero commission is made from these links. These are posted as a service to those reading this blog.
Wireless receiver woes:
Let's go through some of the issues encountered with the Chinese Wireless receiver.
Under Windows XP this CD may be helpful but it's kind of bloated.

Unlike the previous blog articles dealing with Windows 7 and Windows 10, the drivers included in this CD-Disc may be of use to you. In case your receiver did not come with one of these CDs. Or the CD was cracked due to shipping from China like a few of ours were. I will provide a link for downloading the image for those who are interested. The overall size of the archive is about 50MB and that's due to a lot of blatantly redundant files such as Direct X drivers. Click here to download the original CD that came with the receiver. This was only uploaded for archival purposes and will not be used in any way during this tutorial.
Download the driver we will be using for this tutorial.

This archive which is approximately 5Mb in size contains both the 32-bit and 64-bit versions of the Xbox 360 receiver driver. Click here to download the archive or click on the icon to the right of this paragraph to begin.
Notes about the archive:
In the following example above we will be extracting everything in the C:\chinaxbox\ folder. This archive contains the following files:
Xbox360_32Eng – This is the 32-bit version of the Xbox Driver for those working with Windows 7 32-bit, Windows 8 32-bit, and finally Windows 10 32-bit.
Xbox360_64Eng – This is the 64-bit version of the Xbox Driver for those working with Windows 7 64-bit, Windows 8 64-bit, and finally Windows 10 64-bit.
Xbox360_Mod_XP – This version is made specifically for Windows XP 32/64 bit and Windows 7 32/64. Windows XP Tutorial is listed here.
Notes about driver modification.
These archives were changed from a .zip file to a .7z or 7-zip file. Also, all versions of the Xbox driver have been consolidated into a single 7-zip archive as an all-in-one download solution. All procedures remain the same as you can extract with WinRAR down below. There will be a few extra directories however for this tutorial the files will be in the /Xbox360_Mod_XP/ folder The following file was modified in this archive: /Xbox360_Mod_XP/vista-xp/xusb21.inf Starting at line 75:
;China receiver mod by S-Config 10/2/2015 
%XUSB21.DeviceName%=CC_Install, USB\Vid_045E&Pid_0291
%XUSB21.DeviceName%=CC_Install, USB\USB\Vid_05C6&Pid_9244


This entry was placed into the .inf so that Windows XP can properly identify the Xbox receiver. Unlike later operating systems Windows XP does not give us the option to force a particular device driver. Even if we attempt to look for the driver manually. By adding the vendor and product ID's into the .inf file we ensure that Windows XP will find everything it needs.
Unzip the archive.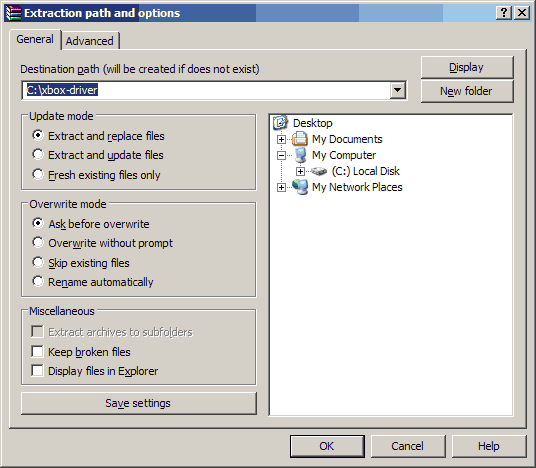 Extract the zip file using your favorite application for handling zip/7-zip files. We like to use WinRar. Make sure that you remember where you have extracted the files as it will be important when the device manager asks us. In this example, we will extract to C:\xbox-driver\ .
Let's begin installing the driver.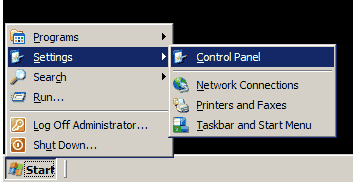 The first thing we are going to do is we want to open up our device manager before plugging anything in! There are many ways to do it but let's go with the most consistent way which is to click on the start button, then settings, and the control panel.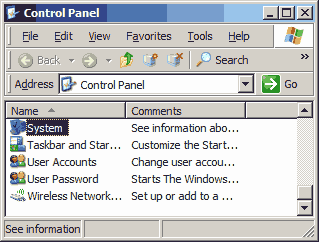 Scroll down until you can find system properties and click on them.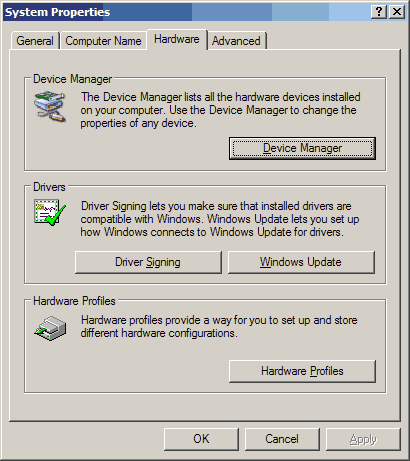 Inside the system properties window, you can click on the hardware tab. And finally, click on the Device Manager button.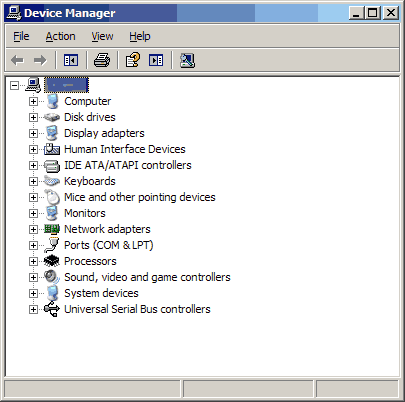 Now that we got the device manager open the picture above should be an estimated screenshot of what your system should look like with unknown devices and all of the drivers installed onto your PC. We have to stress this because users would have multiple devices not installed and may fail to diagnose the correct device we are installing.
You may now plug your Xbox receiver into an open USB port!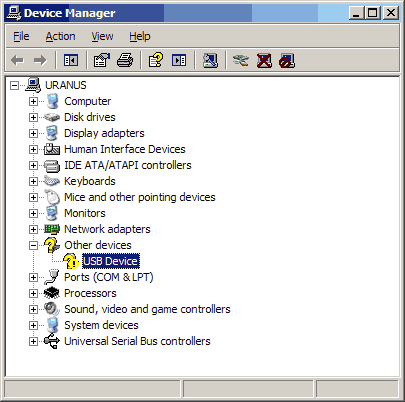 Upon plugging in your receiver your device manager should come to life and begin detecting what kind of device it is. It will not find a driver right away and will list it as a "USB Device" and give it a yellow exclamation point indicating that no drivers have been installed. This is good.
Xbox 360 receiver device verification.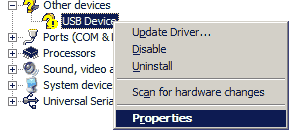 To verify that this is our Xbox 360 receiver from China. Right-Click the "USB Device" and click on properties.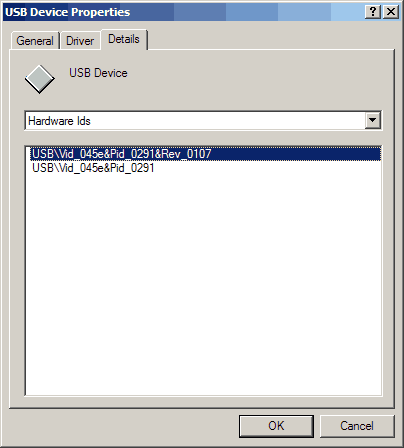 Click on the Details tab and select "Hardware Ids" from the selector box. It should read something similar to the picture above with USB\VID_045E&Pid_0291.
Notes for critical errors.
On 02/01/16 – We had one of the Chinese wireless receivers die on me after years worth of service bouncing back and forth between devices. This can even happen to a Microsoft OEM Receiver as the only thing that is really inside your dongle is a microchip and that's it. The Chinese versions don't even have a fuse along the 5-volt power lines and in my case, the regulator that reduces the voltage from 5.0vdc to 3.3vdc for the chip to use was totally fried out.
A dead giveaway that the receiver died on me is by pulling up the Hardware ID in the device manager underneath the properties of the USB device and it will display USB\VID_0000&PID_0000 or USB\VID_???? depending on the operating system.
If you have something similar to this then contact your vendor right away and ask for a refund or another unit as your USB receiver is dead and not giving an ID.
Manual driver installation.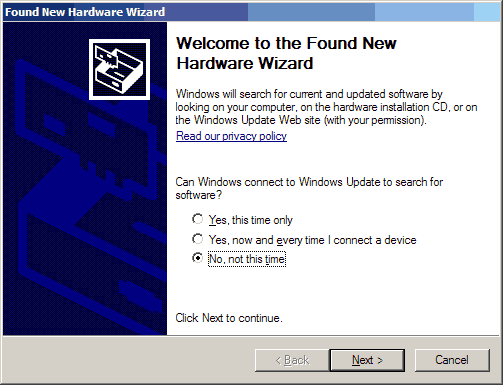 Now that we have verified that our Xbox 360 receiver is transmitting the correct hardware ID. We can proceed with installing the driver. This wizard automatically comes up if you have the plug-and-play service enabled on Windows XP and default policies. But in case you are running Windows embedded so that you can still get updates for your old XP box. You can activate this wizard by clicking on the "USB Device" in your device manager, and clicking on "Update Driver" to begin.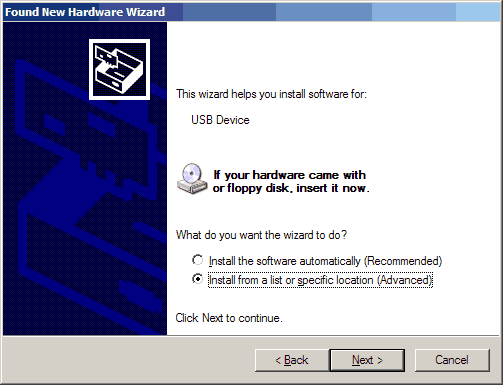 We are going to specify our location since installing automatically will not work. Click "Install from a list of a specific location." And then click next to continue.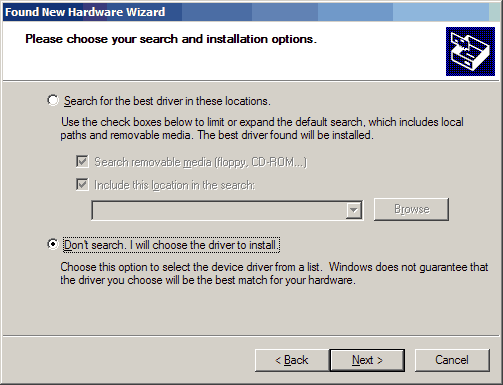 We could include the folder we want to search and be done with it. But we're going to be exact about getting the right driver. Select "Dont search. I will choose the driver to install." and click next to continue.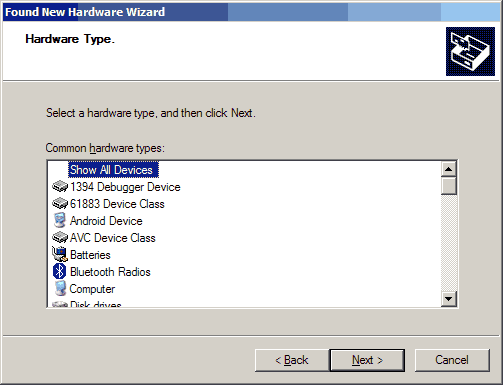 Click "Show All Devices" and click next to continue.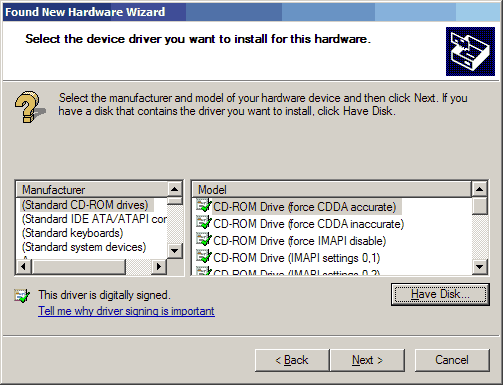 We ar not going to choose anything as the driver has not been loaded yet. Click the "Have Disk…." Icon and click the next button to continue.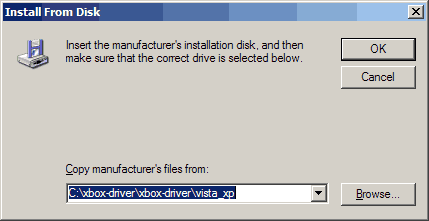 We are going to point the disk to the folder where we just extracted everything that you have downloaded from this page. In this example is C:\xbox-driver\Xbox360_Mod_XP\vista_xp A little redundant but that's okay. You can verify the location by clicking on the Browse button and finding the extracted files. Once everything is set you can click the OK button.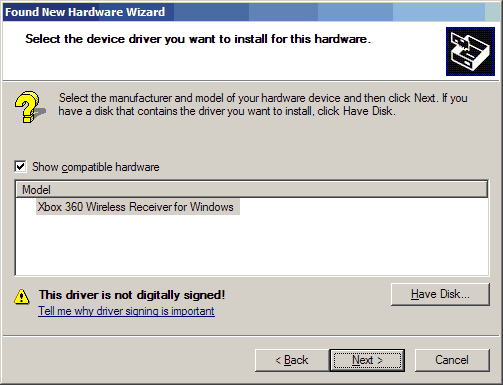 If you have the location path entered incorrectly you will see the following window indicating it has found out Xbox 360 Wireless Receiver for Windows. Do not worry about the digitally signed warning. This is due to the .inf modification. Click next to continue.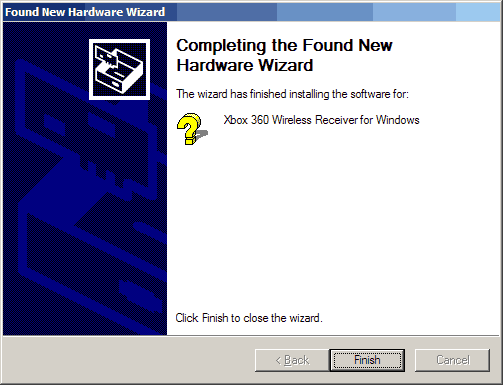 Driver installed successfully. You may click on finish to continue.
Testing out the Xbox 360 china receiver with a controller.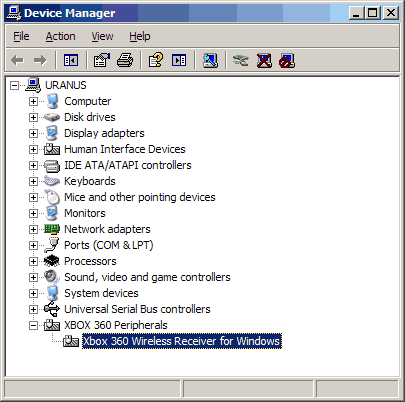 The picture above shows a successful installation of the Microsoft Xbox 360 receiver driver on Windows XP. Now the next part is you probably want to actually USE your controller now, don't you? Let's begin with testing out your newly installed receiver.
Syncing the Xbox 360 controller to your China receiver.
The steps here will seem really simple for people who have owned an Xbox 360 however when looking at a lot of forums this is also the most overlooked step. Resulting in people thinking that they got a bad receiver when in all reality it is perfectly fine!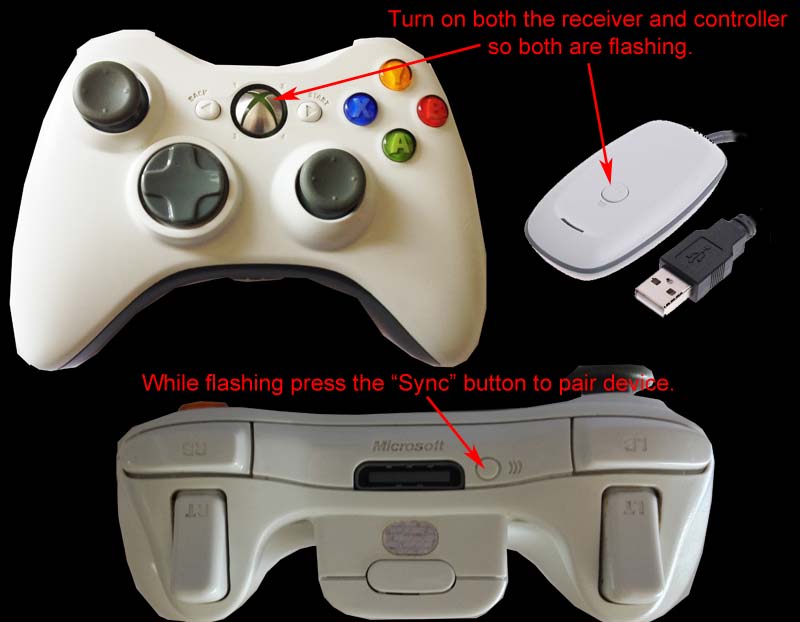 Turn on your Xbox 360 Wireless Controller. It should have all four corners of the controller flashing indicating that it's on but it cannot find a device to connect to.
Press the button on the wireless receiver and it will begin flashing.
While the wireless receiver is flashing, press the "Sync" button on the front of your Xbox 360 Controller as shown in the picture above. You know it will begin to Pair the device if you see the green LEDs on the start button of your controller move in a Clock-Wise Fashion
If you have a solid LED light in the upper left-hand corner indicating player 1. Congratulations! Your Xbox 360 controller is now paired up with your wireless receiver. If the LEDs spin in a clockwise circle but then returns to all lights flashing that means that it cannot find your Wireless receiver to pair up to. (Special notes: If you are hooking this up to an Android box. the controller will still flash but at a slower speed. This is because the Android OS has no official drivers for the Xbox 360 Wireless controllers as for the date of this publication your compatibility will vary from game to game under Android)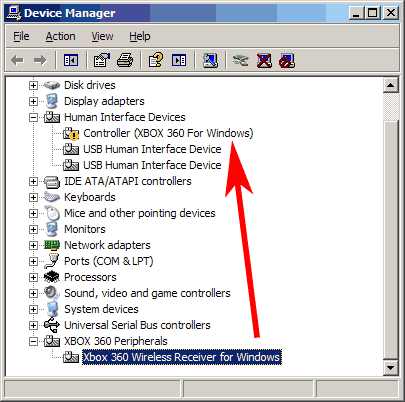 Upon syncing with your receiver windows XP will go to work detecting your newly found Xbox controller and assigning it as a Generic HID Controller.
Testing your controller.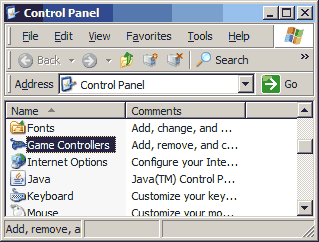 You could either select start and run and type in joy.cpl to open up the joystick panel. Or you could click on start, settings, control panel, and finally click on Game Controllers to access the properties of your new joystick/controller.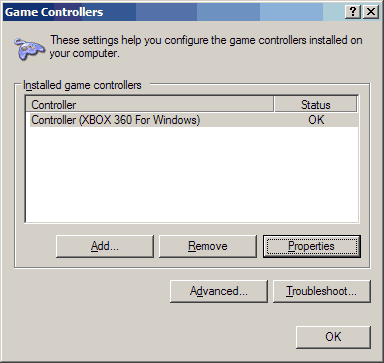 You can now see that your controller has been detected in Windows XP, to verify that all buttons and controls work. Click the Properties button.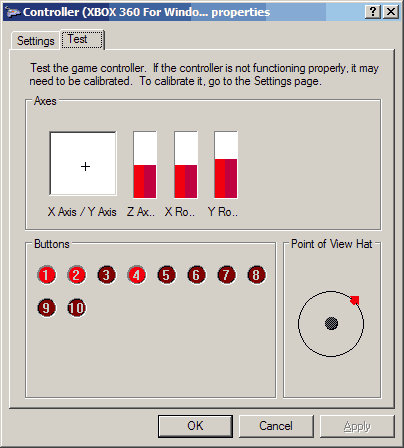 You should be able to press all of the buttons on your controller, move the d-pad around, and work with your hats. We have come to the end of this guide. We hope that you find this useful. All screenshots were recorded off of a live XP test box for authenticity. If you have any comments feel free to leave them in the comments below.
Server protect you.
END OF LINE+++