This is a FooBox video gallery self-hosted video test.
We are going to use the Razer Keyboard key-test movies as the test as they are the shortest and the the blog entry it pertains to has it streaming in multiple parts of the before and the after. In this test all FooBox CSS and JavaScript will now be turned on to allow Foobox Pro, Foobox Gallery Pro, and Foobox video addon to function on this page.
Part 1 and Part 2 Video Gallery.
Video tutorial fallback mirrors:
In case you have no-script enabled or for some reason cannot see the title video on this website. We have provided direct links for these videos. For more information about the standards we use on this site click here if you would like to know more.
Video mirrors for part 2:
Performance:
When viewing the page load through the network tab in developer mode. WordPress videos are using the splash jpg file and will not load the stream until the user presses the play button. However when you click on the next video since it does not use splash titles it begins loading the next video immediately. This could eat up more bandwidth if we used FooBox Video throughout our entire site.
Media administrative window:
Out of simplicity we will go into FooGallery and add a New Gallery using the Single Thumbnail Gallery just to keep things nice and easy to follow.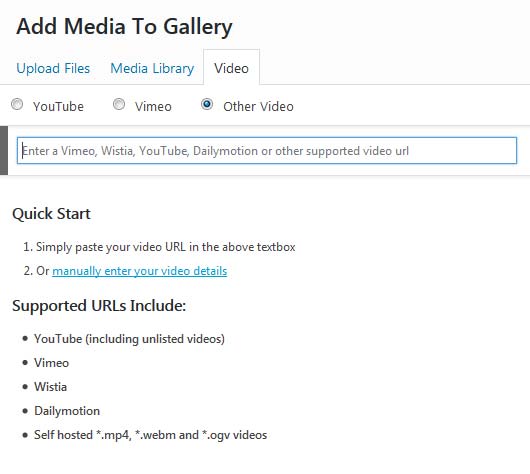 Crazy odd that you have to go through so many steps after clicking the Add Media button. You have to select the Video tab. Then press the radio button for Other Video. Then click the link to manually enter your video details. It's as if FooBox Video has a fear of self-hosting video sites and goes out of its way to try to keep the administrator to continue using Vimeo and YouTube.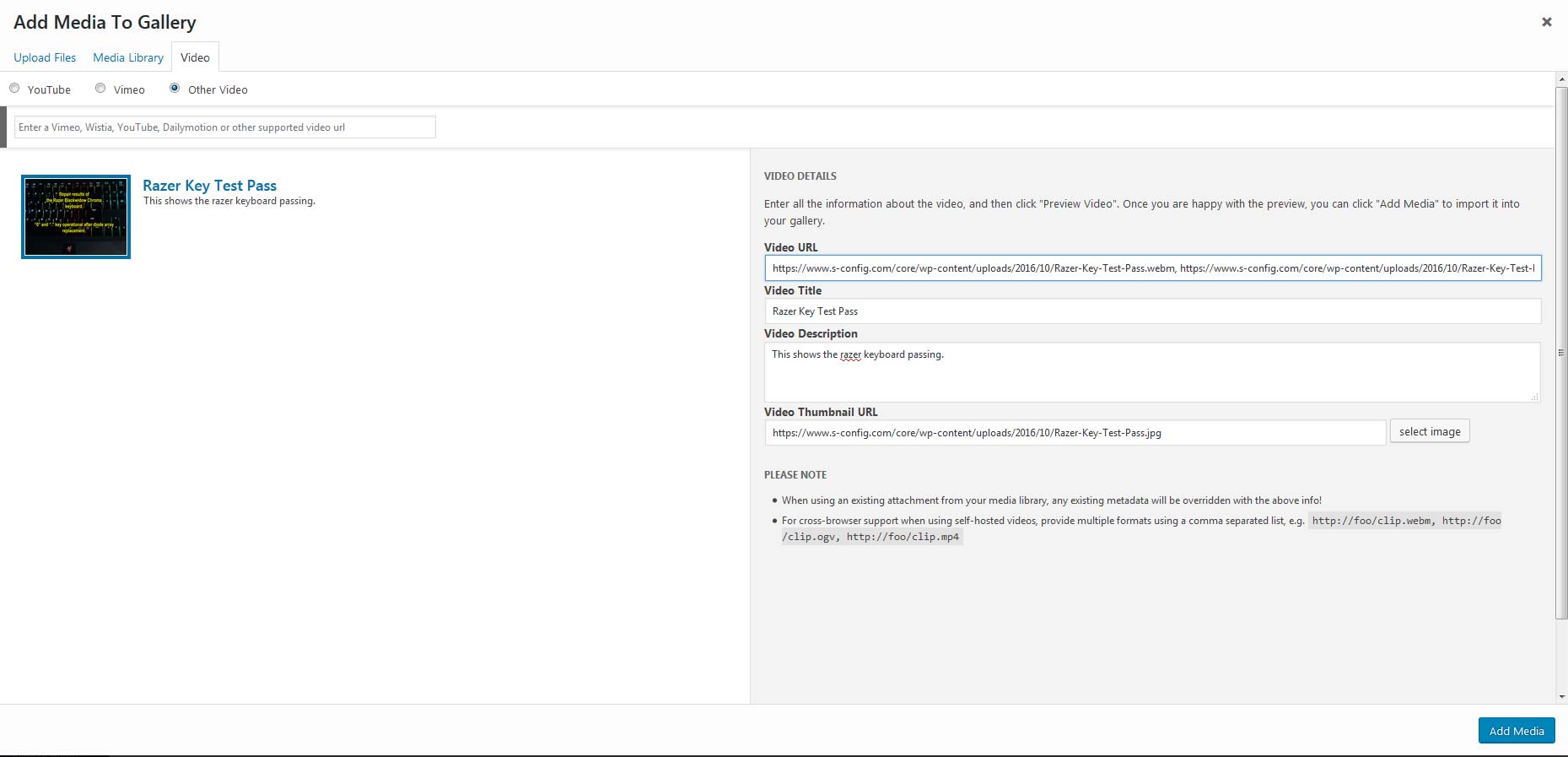 This is where FooBox Video gets a little archaic. When you enter your video URLs for self-hosting. It wants you to comma separate each of your fallback videos as if you are setting up an array by hand. There's no 'browse' button to go and find your videos like WordPress's built in video player. There's also another annoying problem with this interface in respects that once you click the button to Add Media you better be happy with the settings because the moment you leave FooBox Gallery it no longer retains any of the string data when you try to edit each entry. Also you cannot define dynamic URL's like we did in the WordPress video with:
//www.s-config.com
They must either be
http://www.s-config. com
or
https://www.s-config.com
Or else FooBox will ignore your video entry. We used to do dynamic coding to keep HTTPS and HTTP universal on this site. But have since forwarded all HTTP traffic over to HTTPS for its speed improvements. So this is not a big deal.
Consistency Check.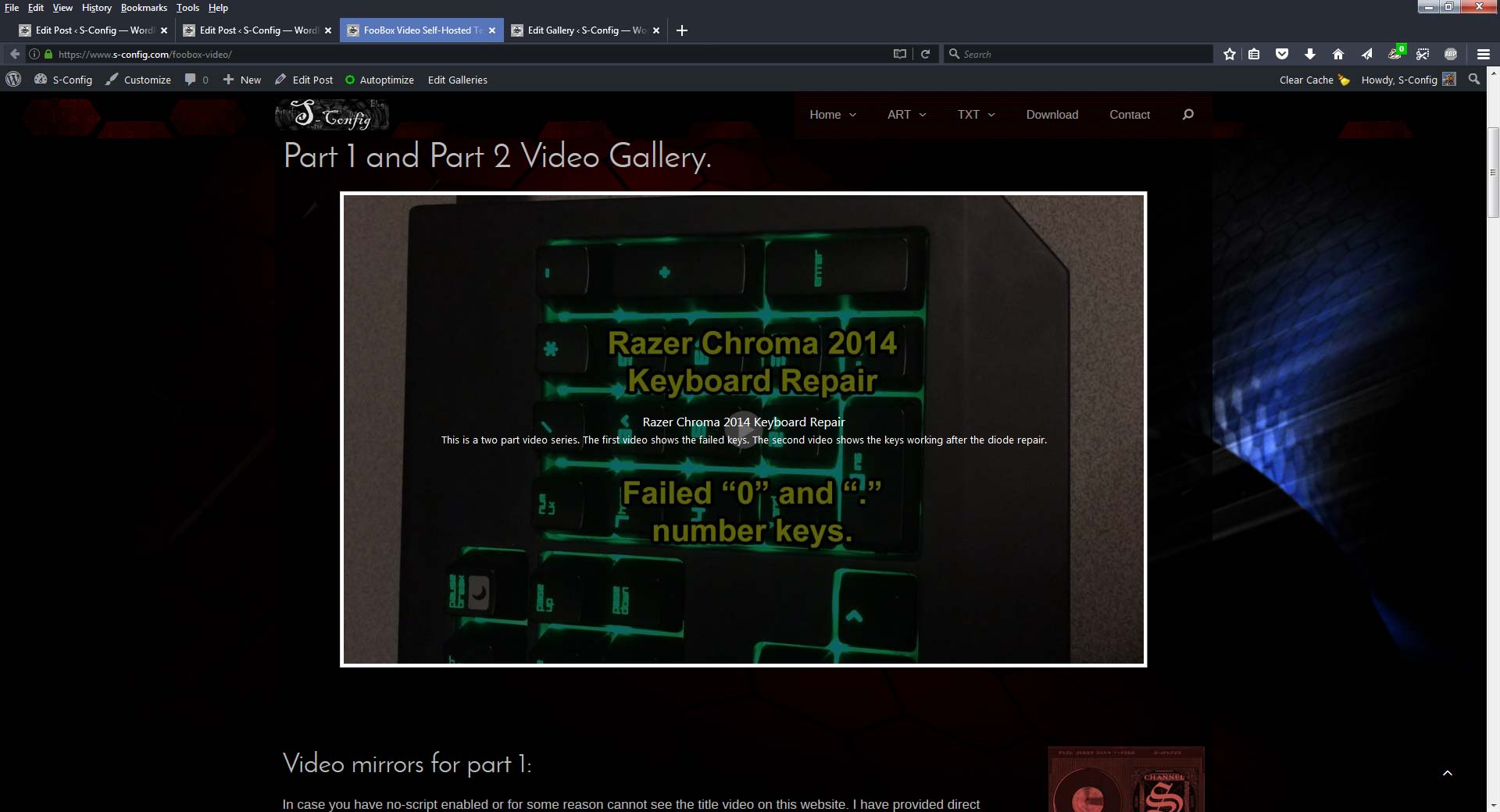 Starting off with FooBox Gallery this part does it's job good enough. When the mouse hovers over it tells you what the video file is with the help of Captions and Override Title in the FooBox Gallery admin menu. But it falls apart quickly the moment you click on FooBox to begin Video Mode.
Firefox is 'okay' as it does at least put a play button there. The FooBox player ignores the poster images provided and provides no captions.
Google Chrome is a little worse as it does not place a play button, does not provide the poster images and mixes up the icons on the bottom of the screen. If a user does not watch themselves clicking on full-screen they could accidentally click the download-video button.
Internet Exploere was a little worse with a total change of the GUI buttons. But at least FooBox is using the fallback MP4 files for Internet Explorer.
The Tor browser frankly didn't like any of the 'Foo' plugins Unless we completely disable noscript from my site. This however is not a terrible deal as there is tutorials on how to cope with users that have javascript blocking agents installed by injecting a <noscript> snippet around the same block of code that any FooBox plugins exist. Overall video player consistency is all over the place in FooBox Video. This is something I cannot deploy throughout my site because without a consistent experience because it feels broken and confusing.
Overall summary:
Like how FooBox Video handles Vimeo and YouTube where it encapsulates all of the widget into an I-Frame and that's it. We simply don't understand why FooBox is trying to re-invent the wheel for self-hosted files. Perhaps Foobox can embrace the WordPress core media player and pass it off to that instead of just firing RAW HTML5 players and hoping for the best between the browsers. Doing so would probably solve many of the consistency issues with such a plugin.
Update 05/19/2019 – It seems that FooBox video is now integrated into the Foobox gallery system which introduces a whole new series of errors that we will document shortly. But in the meantime the standardization between platforms seems to have smoothed out for everyone except Internet Explorer. But even in Internet Explorer it still plays proper.
Until next time, That's what server said.
+++END OF LINE