S Presents: "First Try!" – Bell Sauce!
Pure HTML5 fallback Legacy WordPress player.
Direct download of Bell Sauce:
Direct downloads are available to those who wish to save these sounds to your hard drive or wish to play them in your player of choice. The following formats listed are as follows:
OGG Download or Opus Download.

Song name: Bell Sauce Artist: S Description: Bell Sauce is the result of various experiments we were trying to an open-source program called VCV-Rack. When you're new to something like music or art you want to experiment with as many different styles as you possibly can. At first, this program was daunting but after a while of watching tutorial videos on how things worked. Like how voltage can change tone and how certain aspects of sound and electronics are tied together as one. We started to understand it a little. With a little knowledge, we can become dangerous enough to make our speakers almost blow up!
Originally, this was just a bunch of random but simple patches but as we were listening to each patch in this program called VCV-Rack it kinda felt like it all came together! So that's what we did here! VCV-Rack is really cool in respects that you can play with all of the modules and synths without having to blow tens if not hundreds of thousands of dollars on an expensive hardware Euro-Rack.

Is it a replacement for the real hardware? Nope! Because hardware sound does have its own feel and aesthetic to it all. However, it's a great way to sound engineer some new variations and patches without spending money on the "Synth-of-the-Month" that has this special and unique sound to it. Also, we're hoping with the new VST plugins that we can take the soundscapes we make and control them a little better within a DAW environment. I was just manually playing with the knobs with the mixer and then I had Audacity running in the background recording off of my Creative "What you hear" channel. With basic amplification and fades. Song complete! Listen when you are ready!
Download this very VCV file!
Since it is all open-source and available on PC, MAC, and Linux. There's absolutely no reason why anyone reading this out there can't try it out. In fact, you can download this very VCV patch for this song so you can try it out too. When you first install VCV-Rack you'll also need to login to their site and download some plugins. Here are the plugins that we used for making this patch:
Spring Reverb made by Befaco v 0.6.0
SEQ-3, mixer, and LFO-1 from the Fundamental pack v0.6.1
Modal Synthesizer, Texture Synthesizer, Multiples, Meta Modulator, and Resonator from AudibleInsturments pack v0.6.0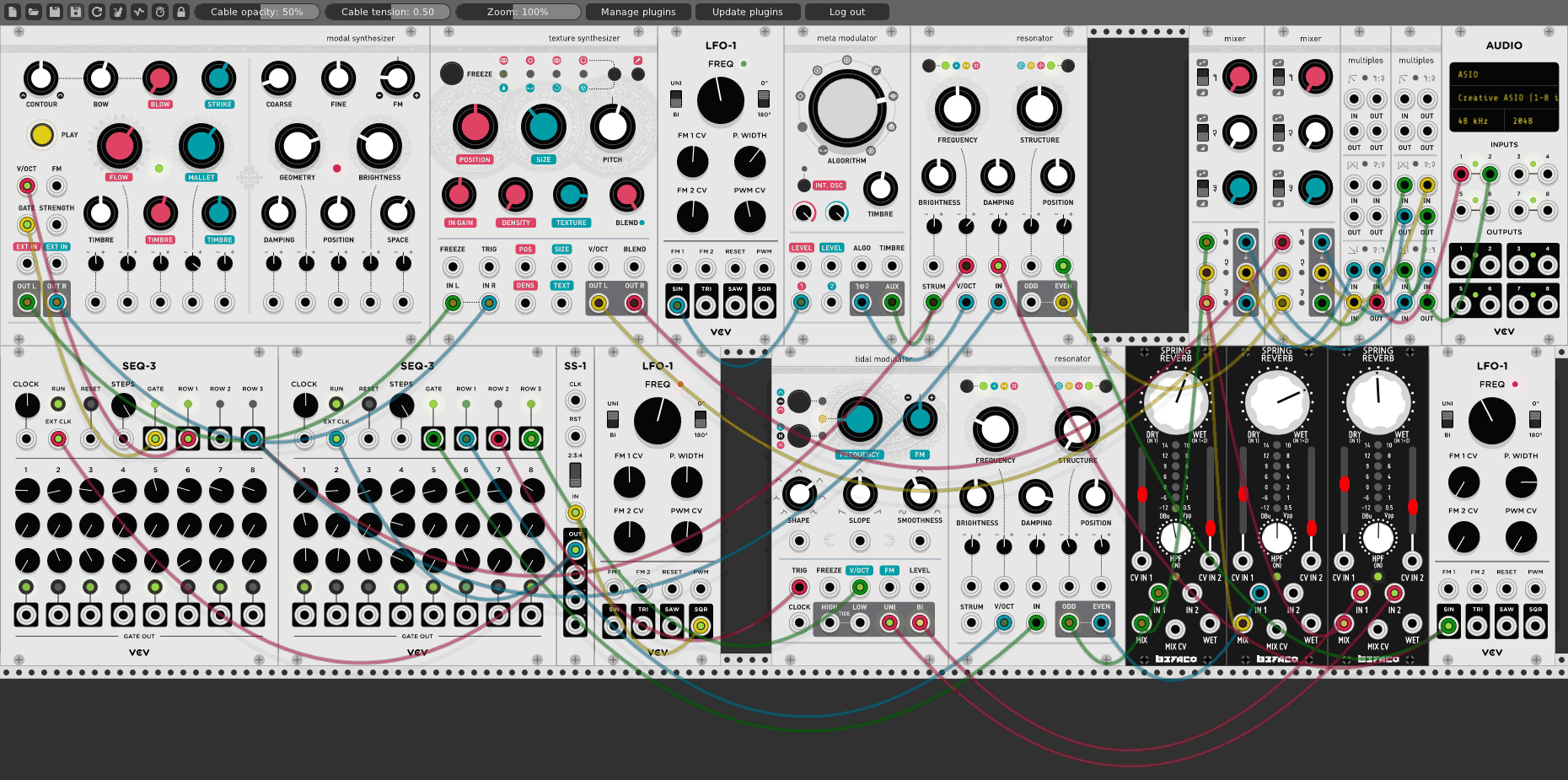 BPM: 60 Maybe??! Not sure?!? Genre: Ambient DAW: VCV-Rack
+++ END OF LINE.